a "nu" style of jazz
melodic, innovative, international ... cool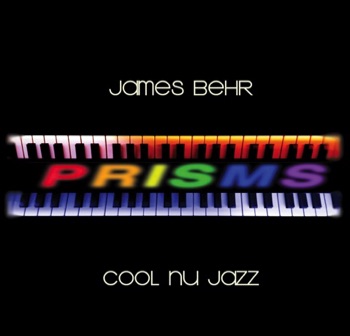 1. In That Groove • "Groove" features piano, bass, drums and synth... standard jazz ensemble. Its rural yet cool sound makes you snap your fingers, which is what you hear at the beginning. "Groove" also marks the world premier of James Behr snapping fingers in an album. Okay, no big deal...
2. I'm So Sentimental • This work features clarinet, a nod to a bygone era when lyrical clarinet was common to jazz bands. Hence the title... a piece with pretty melodies and clarinet solos.
3. Melba of Mexico • This was inspired by Melba, a girlfriend a few years back. The energetic Latin rhythms reflect her country (Mexico), energy and chic style.
4. Bach Revisited • (bonus track) "Revisited," also in Behr's "Kaleidoscope Suite" CD, reflects admiration for the Baroque genius J.S. Bach... and what he might compose if alive today. It's a jazzy Baroque-era fugue loaded with four-voice counterpoint by piano, bass, vibes and synth.
5. Flute Frolic • This features bass, drums, and playful interplay between piano and flute... now there's an instrument that does not show up often in jazz.
6. Alone • This sentimental piano work reflects upon loss and loneliness.
7. Vanishing Jungles • This is a musical elegy reflecting upon the ongoing mass destruction of forests and wildlife due to greed and indifference. Its exotic instruments, from African drums to Indonesian Gamelan, eerily reflect the steadily vanishing jungles in Africa, Brazil and Asia.
8. Take a Walk • Just an easy-going work with a flowing piano intro followed by a few surprises and, again, flute... a fun instrument to hear in jazz.
9. Russian Lady • This reflects admiration for Russian music, from stirring orchestral works of Tchaikovsky to brooding, melodic songs -- dark, minor keys, deep, and stirring.
10. Bartok Blues • This swing band work, with brass and sax sections, is a tribute to the great Hungarian composer, Bela Bartok. Key themes from Bartok's thrilling "Concerto for Orchestra" are heard throughout in witty, engaging jazz styles. Those who know Bartok's symphonic classic will get a kick out of this piece featuring piano, synth, vibes, flute, driving swing drums, and later, brass and sax.
© Prisms by James Behr. All Rights Reserved.