DAWN IN ST. GEORGE 4:28
CRUISING 4:29
BACH REVISITED 6:09
COMING HOME 4:34
LOOKING BACK 9:42
REMEMBRANCE 10:41
THE ROBOT SPEAKS 2:23
A CLOUD'S VIEW 5:53
FUNKY ONE 3:09
1. DAWN IN ST. GEORGE While on a road trip I stayed in a motel in St. George, Utah. As I slept, I dreamt I was hearing a pianist play in a music studio and I said, "That's nice, I wish I wrote it." I then woke up hearing that music and realized, in the haze of night, I wrote it! I grabbed an envelope and jotted down music notes as dawn neared (hence the title) then went back to sleep... after all it was 4 a.m.
2. CRUISING It's about the thrill of speeding along an empty road. The piano hammers away at nifty riffs alongside driving drums. For Classical fans, you'll find plenty of polyphony and a canon or two.
3. BACH REVISITED (bonus track) What would Bach compose if he lived today? Maybe this... Bach Revisited is a modern-day work, part jazz, part homage to the Baroque genius. It opens with a chorale (he wrote many) and a four-part fugue, then sweeps to jazz. I think he'd approve.
4. COMING HOME This is a melodic piano work showing my respect for soldiers who served in Iraq and Afghanistan and their feelings upon returning home.
5. LOOKING BACK This is a time-travel to the past starting in the present, rugged and energetic, then arriving in 1920's New York – a taste of Gershwin? – then returning to the present. The opening and closing sections feature counterpoint among piano, synth and bass. A taste of Bach?
6. REMEMBRANCE This is a musical cycle of life: birth, growing up, first love, marriage, children, life's stresses, growing old, and eventually death… and rebirth. Listen and hear children taunting, a sleeping baby, birthdays, graduation, and a wedding. Even the Gregorian "Dies Irae" death chant finds its way, but don't get it wrong: remembrance celebrates life, mostly spunky and upbeat.
7. THE ROBOT SPEAKS If a robot could talk, here it is: clunky, weird, and downright fun. It starts simple, grows cacophonous, and fades away as if to suggest our robot in a hopeless loop… or out of battery?
8. A CLOUD'S VIEW If the clouds could see, perhaps this is what they might say as they float over exotic lands, growing in energy then easing serenity at day's end as the clouds themselves drift to sleep.
9. FUNKY ONE Slap guitar, a cool riff, an evening at home chilling out, a cool brass section: trumpet, sax, trombone. An homage to the 70's? Chicago, Blood Sweat & Tears?
© Kaleidoscope Suite by James Behr. All Rights Reserved.
Recorded at Gem Studio, New York.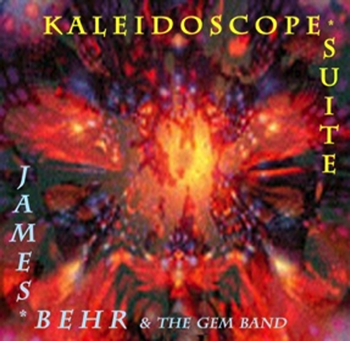 KALEIDOSCOPE SUITE * FUSION ROCK/NEW AGE