ALBUM NOTES
1. Kaleidoscope Overture, full of vigor and swirl, reflects New York where the composer lives - diverse neighborhoods, culture, the rush, Broadway, excitement, and artistic diversity from Classical to Broadway. The ever-changing feel of Kaleidoscope reflects magnetic Manhattan.
2. Old Vienna offers a glimpse of the lost pre-World War I era, an artistic capital and cornucopia of Eastern European cultures - Hungarians, Czechs, Slavs - living in the thriving capital of Austria-Hungary. The city attracted geniuses: Haydn, Mozart, Beethoven, Schubert, Brahms, Strauss, Mahler, Freud. Hear the Gypsy violinist, a beer hall um-pah band, horses and buggies, honking cars at the onset of the 20th century... and a hint of Beethoven's fifth (hint: bells).
3. Flamenco - What is more descriptive of Spanish culture? Here is a musical tribute.
4. Chick-zicato marks a visit to a noisy barnyard. You'll hear plenty of clucking chicks and, if you listen carefully, you'll notice some are quite cultured little chicks.
5. Paris-Notre Dame depicts Paris, giving the feel of roaming avenues, cafes and nightspots brimming with can-can. Upon crossing the Seine, we enter the historic Notre Dame Cathedral, taking us to a distant past - a moment of spiritual connection. Upon exiting the cathedral we reenter the stirring city.
6. Perpetual Motion features brisk strings with flying sixteenth notes non-stop from start to end and orchestra building up steam. Hold your breath!
7. Hispanica reflects the flair of cultures from Spain to Mexico, from flamenco to the intimate to stirring.
© BOCA SWEET by James Behr. All Rights Reserved.
Scored for Violin I-II, Viola, Cello, Db, 2 Fl, 2 Ob,
2 Cl, 2 Bsn, 2 Tpt, 4 FH, 3 Trb, Timp, Perc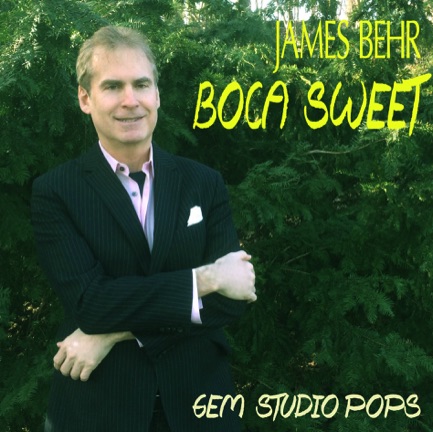 BOCA SWEET • SYMPHONIC POPS
Boca Sweet is the modern-day answer to the charming music of Leroy Anderson, whose classics like Sleigh Ride thrilled pops audiences for generations. In Boca Sweet, the tradition continues. Each work offers opportunity for dance, costumes and video to delight audiences while listening to music.